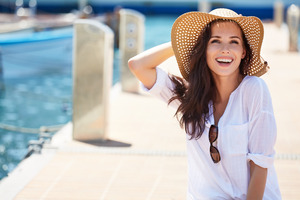 Chances are you're planning on spending a lot of time outside this summer, whether that means heading to the beach or inviting your friends and family over for a barbecue. As such, you'll probably get more sun than usual in the coming months – and surprisingly, this could end up benefitting your oral health in a variety of ways. Your preventive dentist is here to explain how the sun can help your smile.
How Can More Time in the Sun Lead to a Healthier Grin?
When your body is exposed to sunlight, it can start producing its own vitamin D. This essential nutrient plays a critical role in maintaining a healthy mouth. Here are some of the things it can do:
It improves the body's ability to absorb calcium, which is important for your teeth and your jawbone.
It is associated with a lower risk for cavities. According to some researchers, vitamin D can cut the chances of developing tooth decay in half.
It strengthens the immune system. As a result, you will have better protection against the bacteria that are known to cause gum disease.
Of course, you can also get vitamin D from a variety of foods, such as fatty fish, eggs, milk, orange juice, and yogurt. However, the sun remains your best source, so if you want to take advantage of everything vitamin D has to offer for your smile, the upcoming summer months are likely your best opportunity.
How Can You Stay Safe While Spending Time in the Sun?
It goes without saying that while some exposure to the sun is good for your health, too much can lead to painful sunburns and an increased risk of cancer. So while you're getting your daily dose of vitamin D, you also want to make sure that you're well-protected against the worst effects of UV rays. Be sure to keep the following tips in mind when heading outside this summer:
Always wear sunscreen that has an SPF of 30 or higher. Don't forget the SPF lip balm; your lips are particularly sensitive to the sun since they don't contain as much melanin as the rest of your skin.
Try to limit the amount of time you spend outside between the hours of 10 AM and 2 PM. This is when UV rays tend to be at their strongest.
Spend as much time in the shade as you can, and don't forget to wear sunglasses and protective clothing.
If you follow the right precautions, you can safely enjoy the summer sun and get the vitamin D that your smile needs to stay in excellent shape.
About the Author
Dr. Stephanie Flinchum went to the University of Kentucky for her dental degree, and she completed her Advanced General Dentistry Residency at Idaho State University. Her Tulsa practice, My Dentist Midtown, is dedicated to treating patients as individuals instead of just numbers. If you would like to schedule a dental appointment with Dr. Flinchum for the start of the summer, visit her website or call (918) 492-1780.