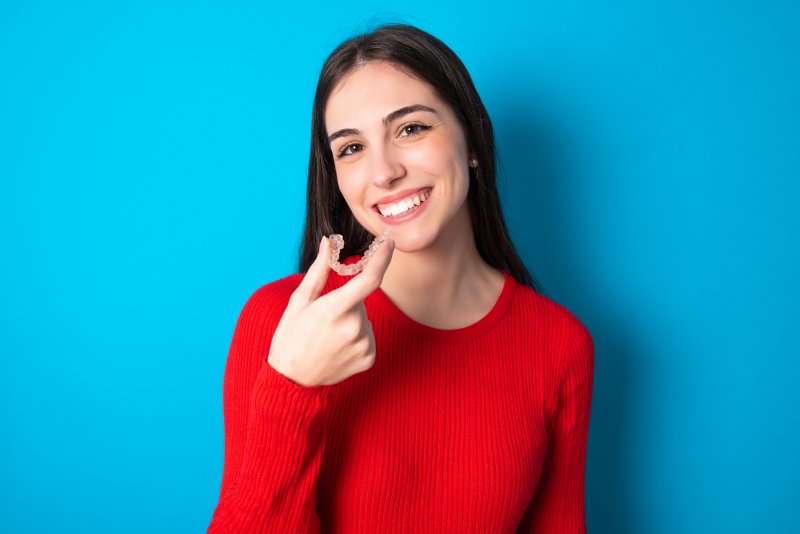 Invisalign aligners are one of the most popular orthodontic treatments, capable of producing incredible results much more discreetly than traditional braces. While the promise of that is enormously appealing to people who want a straighter smile, there are some things worth knowing about Invisalign treatment before you start.
For that reason, most people who are interested in Invisalign have quite a few questions. Here are some of the most common ones, and some answers that you may be looking for.
How Long Do I Wear My Aligners?
Your dentist will usually recommend wearing your Invisalign aligners for 20-22 hours a day, ideally as close to 22 as possible. That means that you should be wearing them all day and while you sleep, only taking them out to eat and clean them afterward.
Does Invisalign Treatment Hurt?
Traditional braces are associated with a fair amount of discomfort, especially when you first get them. Most people will tell you that clear aligners are more comfortable, but you'll probably still be pretty sore when you first get them.
The first week or so tends to be the hardest for patients, with their teeth becoming a lot more mobile after that point. After that, you should only be uncomfortable for the first few hours or so after getting a new tray; you can switch to new trays just before bed so that you can sleep through the worst of it.
How Do I Remove My Aligners?
It's completely normal to struggle with taking off your aligner at first, and it will get easier with practice. It tends to be easiest to start removing your aligners from the back, pulling them off of one side of your molars.
There are also small hooks designed to help make your aligners easier to remove. You can even use a crochet hook in a pinch if you have one of those on hand.
How Often Do I Clean My Invisalign?
Ideally, you should brush your Invisalign any time you take them off. It'll take some time to get used to brushing after every meal, but once you do, you'll be able to preserve your aligners for much longer than you could otherwise.
About the Author
Dr. Stephanie Flinchum is a dentist who believes that the best oral healthcare comes from a partnership with her patients, where each of them learns something new. That's how she's able to provide personalized care to each of her patients. Dr. Flinchum earned her dental degree from the University of Kentucky, and she completed an Advanced General Dentistry Residency at Idaho State University.
If you have any questions about Invisalign aligners, she can be reached at her website or by phone at (918) 949-4450.